They sound the same, but are spelled completely differently. Homonyms are a cool part of English to teach and learn. However, it is easy for students to use the wrong homonym in their writing. A fun assortment of puzzles, worksheets and games to help you choose the right homonyms. We have all sorts of great resources to help you with your homophone lessons, so browse through to find out more.
1. Same sound spinner
Build your confidence with this cute game. Students are given cards with common homophones. Place the spinner on the sheet to make sentences or find homophone pairs! As an additional challenge, have them use the pairs together in a sentence.
More information: The Literacy Nest
2. Homonym matching activity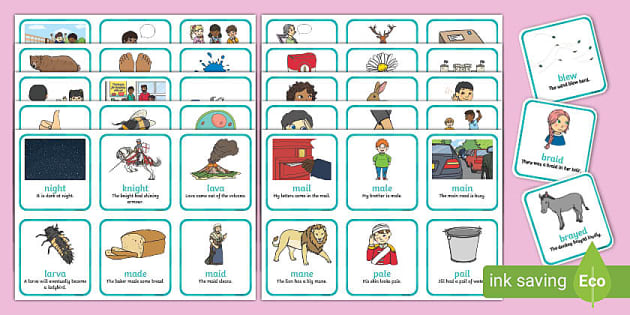 Matching homophones is a great way to start a lesson. Print out the homonym picture cards and shuffle them into a pile. Students pick up cards and try to find matching pairs.
For more information: Meraki Lane
3. Flipbook
Break out the crayons and make a colorful homophone picture book! Pictures help students visualize the meaning of words. Especially difficult homonyms. Display homophone pairs around the room for all students to see!
More information: Amy Lemmons
4. Blackout game
Add this bingo adaptation to your literacy center games. Give the student a sentence card and place a chip on the correct spelling. Whoever covers the whole card first wins. As an additional assignment, have students read the passages instead.
More information: This Reading Mama
5. Crossword puzzles
Crossword puzzles are a popular resource for elementary school teachers. These easy worksheets make great activities during class. You can also create your own puzzles from a list of homonyms. The wide range of options makes it perfect for all grade levels.
Details: Moffat Girls
6. Digital Homonym Matching Activities
Satisfy your child's digital activity needs with a fun interactive homophone game. Students click the correct homophone from the pair. Colorful pictures are a great way for students to learn and remember the meaning of homophones.
Learn more: Boom Learning
7. Terrifying Homonyms
See how creative your students can be with this fun activity. Give students homophones. Use it correctly in a sentence and ask for an explanation. Then ask them to use the wrong homonym in the second illustration. This activity makes a nice homophone display in your classroom.
Learn more: Education.com
8. Anchor Chart
Provide helpful resources around the room for your students. Have students describe various homonyms and create definition posters. Their whimsical illustrations are sure to be fun and help you remember the meaning of words! The posters also remind you of common spelling mistakes.
More information: Life during the summer
9. Which word
To win the game, students must use the correct homophones. For each correct sentence, students cover the corresponding bubble in the middle. The first student to cover all the bubbles wins! For younger students, display the picture definition card on the table.
More information: Games4learning
10. Homophone Scoot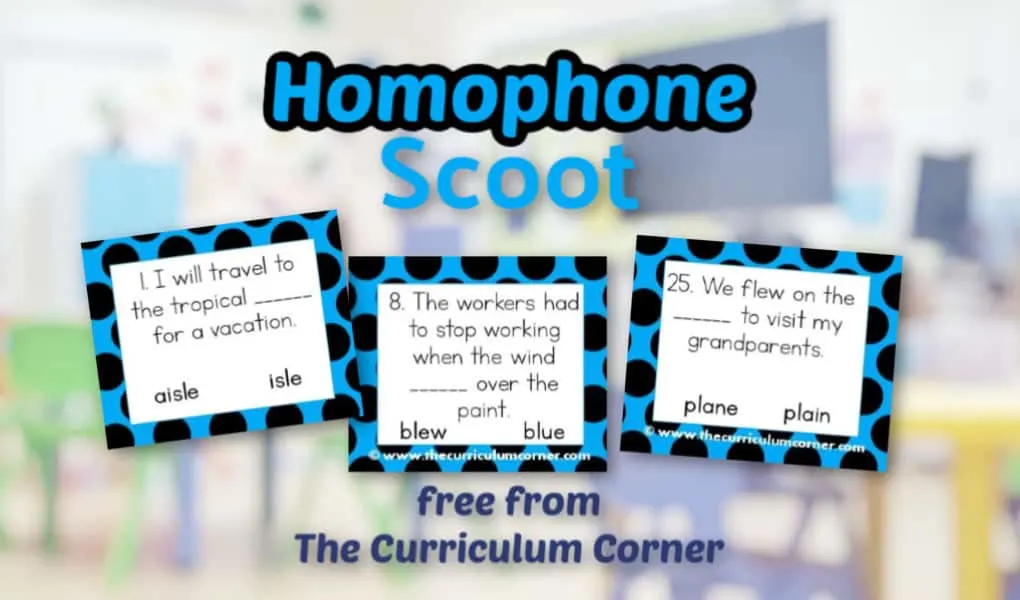 Add physical activity to your lessons. Place cards around the room and have students search for them all. For each card, you must choose the correct homonym and record it on your worksheet. You can decide if it's a race or if you want your students to help you.
Learn more: Curriculum Corner
11. Homophone hunting
The digital option is perfect for rainy day lesson plans. In this matching game, students must click squares to remember where the matching homophones are. For each pair, part of the image is revealed. Have students record their pairs as they work through the puzzle.
Learn More: Dragon's Den Curriculum
12. Homonym Puzzle
Puzzles, puzzles, more puzzles! Carefully cut out different puzzle pieces for your students. Then help match pictures with words, homonyms and their matches. Flip the cards to create a memory game and let kids exercise their memory skills.
More information: Pinterest
13. Clip Card
This easy game is a great way to end your homophone lessons. Print out the cards and give the clothespins to the students. Read the sentences aloud in turn and have the student "pin" the correct answer. Then use the words to make new sentences.
Details: Fun with Mom
14. Homonyms of the Week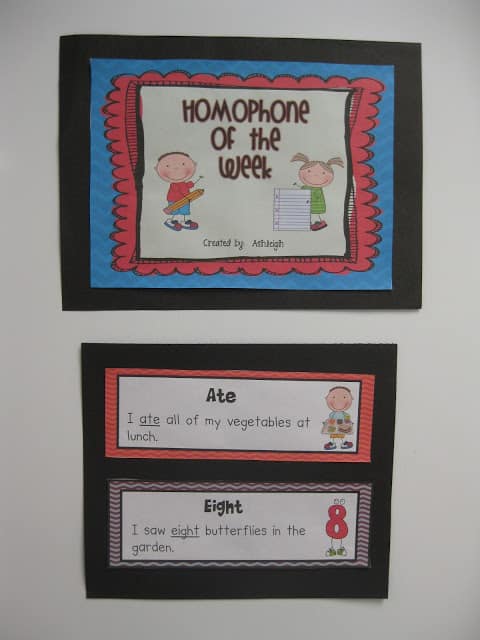 Add cute homophone posters to your classroom! In this week's homophones, you can discuss common homophone mistakes and expand your child's vocabulary. Each week, have students write a sentence using each homophone. Extra credit if they make a photo that goes with them!
MORE: Ashley's Educational Journey
15. Homophone search
A homophone scavenger hunt? you bet! Place sticky notes with homonyms on each student's back. Then ask each other questions to find out what your homophones are. Keep asking until you find a matching pair.
More information: LMNOPond