Whole-body listening is an important skill that students of all ages should learn. The concept was first developed by her Susanne Poulette Truesdale in 1990. It explains how each part of the body can contribute to the act of listening. This skill allows students to pay attention and think about what is being said. Below is a list of activities that help students develop as whole-body listeners.
1. Tootie Ta Dance
Fun for all ages, this song encourages students to get up and dance while practicing full-body listening. Participating in the dance requires listening carefully to the words and dancing to the movements.
For more information: Dr. Jean
2. Play Simon Says
Nothing motivates students to learn more than fun listening games. Simon Says is a classic and provides a great opportunity for students to practice listening with the whole body. Choose someone to be Simon and have the students actively listen.
Additional Information: Authorized Parent
3. Use whole-body listening cards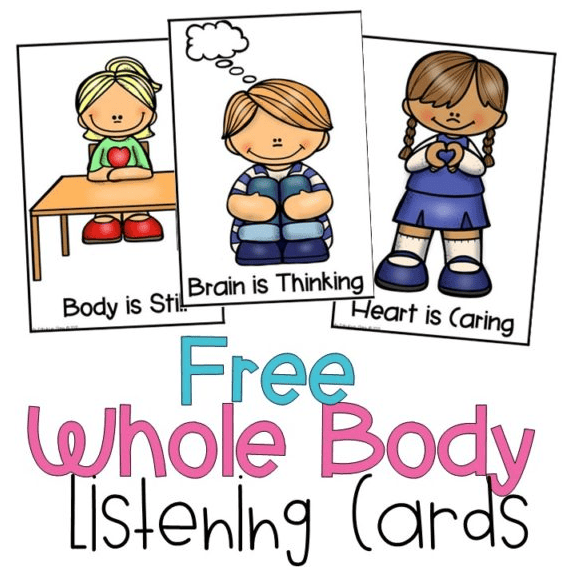 Shows how students should listen. These cards are a great way to visually show students what each part of the body should do. Students can model their bodies after the cards, and by making these cards part of their classroom routine, they can review these cards often.
More information: My Fabulous Class
4. Use a squeeze ball
This simple yet effective game is also really fun. Students need to pay attention to your movements in order to follow your lead. Combine each movement with a direction to activate your full-body listening skills.
More information: Inspired Treehouse
5. Get creative with collages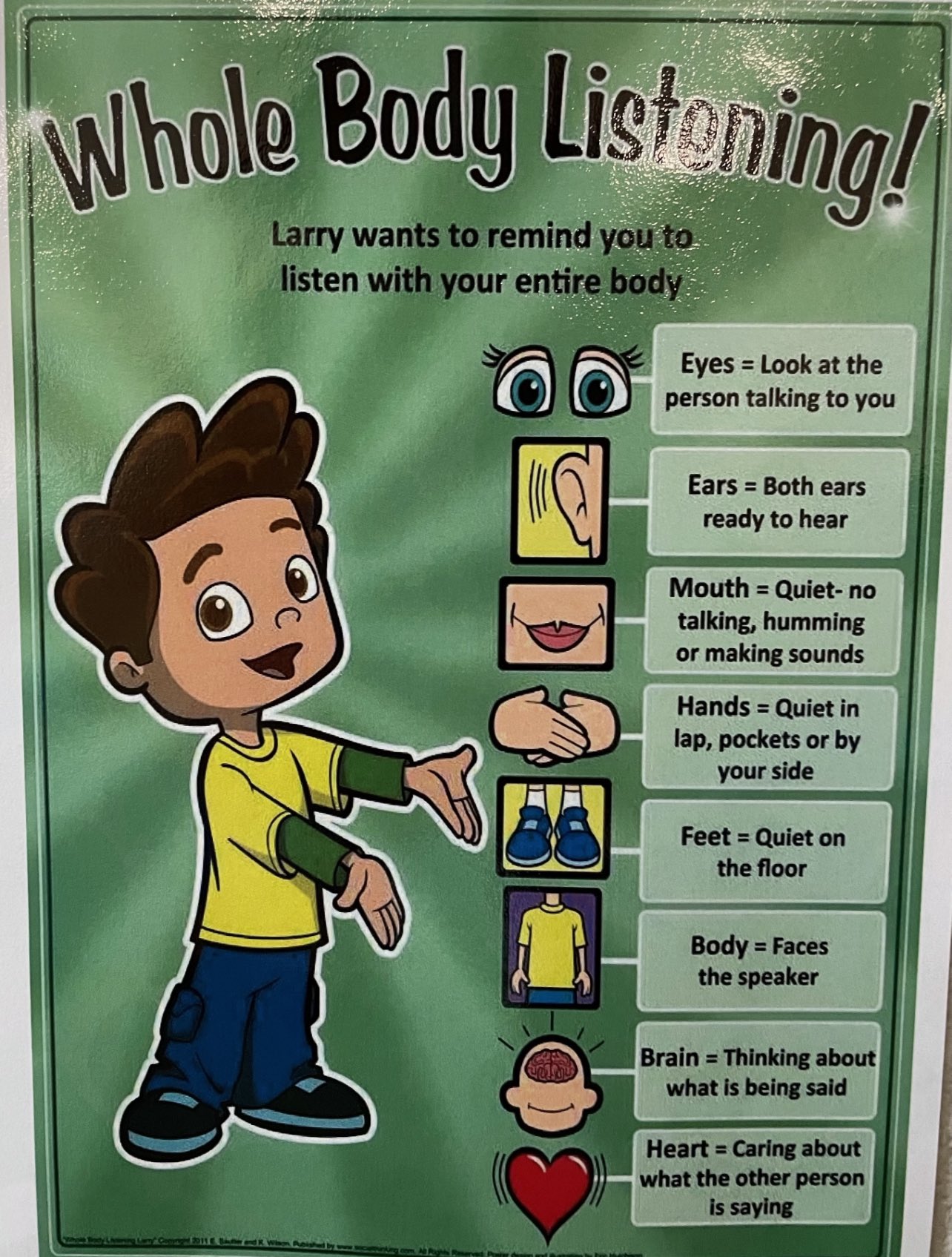 Let older students get creative with their thoughts on whole-body listening. Ask them to create a collage labeling the different parts of the body that are activated during full-body listening. You can use your own photo or a photo from a magazine.
More information: Hannah B. SLP
6. Play listening games
Playing the listening game requires students to listen carefully to the instructions given. Also, you should listen to the sound of the bell. This game will stimulate both the student's listening skills and imagination.
Learn more: Cosmic Kids Yoga
7. Share BrainPop Jr. Videos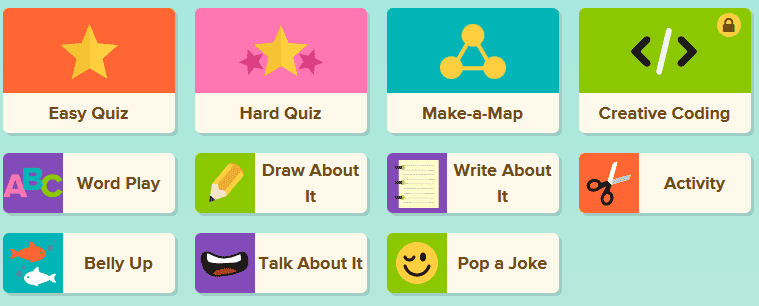 Share a BrainPop Jr. video about listening with your students. This video explains how to become a better listener. Students can learn how to imagine what speakers are saying and get other tips for building skills.
Learn more: BrainPop Jr.
8. Play red light, green light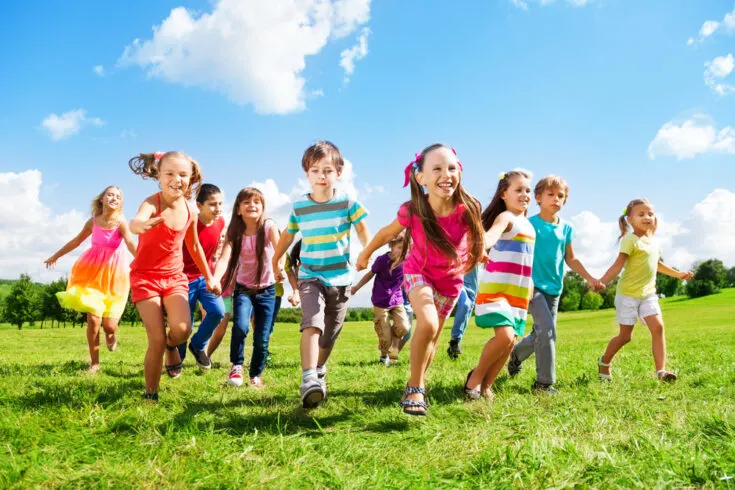 Another classic game that promotes body listening skills! Play red light and blue light with your students. To actively listen to instructions, you need to concentrate on the speaker. This is a great opportunity for kids to practice full-body listening, and it's also a great movement break!
Additional Information: Authorized Parent
9. Read the whole body listening rally at school
The Whole Body Listening Larry book by Elizabeth Soter is a great way to introduce students to this concept. Read aloud in groups. As you read, have them pay attention to how you are listening. Go back to the book as often as necessary for a refresher!
More information: Whole Body Listening Larry
10. Let's sing about it
The song pierces the mind of the students. Sing about whole-body listening and have students sing along. This song is great and allows students to take steps to build a whole body listener.
More information: Song for Speech
11. Listening play
Have students play with their toys while you explain what to do. Although this feels like play, these are the perfect activities to build her listening skills.
More information: In the playroom
12. Do yoga
Yoga is a great way to work with the whole mind and body. Students will have the opportunity to practice full-body listening while following these yoga poses.
Learn More: Kumara Yoga
13. Stand-up play and listening
This listening game will grab your students' attention. Identify sounds that act as signals. Students should stand next to their desks when they hear the sound.
Learn more: TeachHUB.com
14. Read about listening
Kids love hearing stories, so why not use that interest and read about listening? Take a look at this list of books and pick one to improve your student's skills.
More information: Artsy Mom
15. Teach a lesson in active listening skills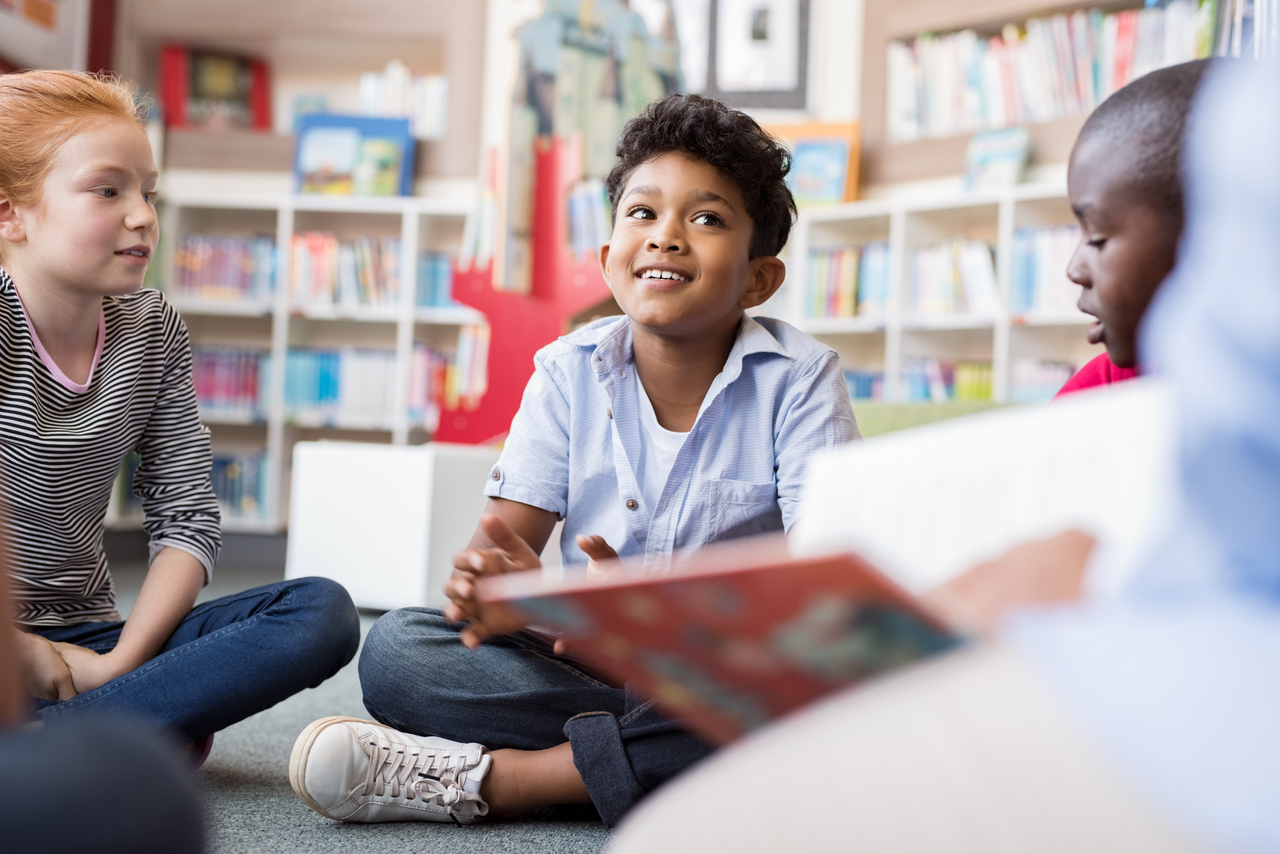 This is a great pre-made digital activity to use with high school students to engage them in a state of active listening. Ready-to-use lesson suggestions complete with audio clips of interviews and videos with tips.
More information: Story Corps
16. Run for your mouth game
Calling all competitive students! The game requires you to run to and listen to various audio stations around your study space before relaying information to your group members.
Learn more: FluentU
17. Blindfold Partner Walk
Have students pair up and have one partner blindfolded. Other partners give directions on how to move around the room. The blindfolded person should concentrate on listening.
Learn more: ESL Kids Staff
18. Survey student
Ask older students to think about their listening skills by completing a survey. You should consider whether to practice whole-body listening. If not, you will know where to improve.
More information: Focus on literacy
19. Listen to Podcasts
When students listen to podcasts for learning purposes, they need to listen with their whole body. Ask students to listen to the podcast, pause, and write down their thoughts.
Details: Two peas and a dog
20. Use Speaker Listener Cards During Roleplay
Have students pair up and role-play with the cards to see when it's their turn to speak or listen. This activity requires imagination, social skills, and acting. Best of all, students get the chance to practice their listening skills.
Additional Information: Elementary Nest
21. Keep a listening journal
This practice is common among musicians, but why not use it in your classroom? Prompt your students on their listening habits. They can write down their listener characteristics and the main ideas they hear throughout the day.
Read more: From math to music
22. Hang full-body listening posters in the classroom
As a visual reminder, put up posters in your classroom with tips on how to become a better full-body listener. Students can even create their own to foster a strong sense of community within the classroom!
Additional Information: Physical Education Teacher