Bring the kids to the Family Winter Fun Fest on Saturday, February 18 from 10am to 2pm at the Bay City Town Center.
what's happening: Complimentary events include family-friendly activities, entertainment, dining, vendors, and more. Some activities are just for fun, others are educational.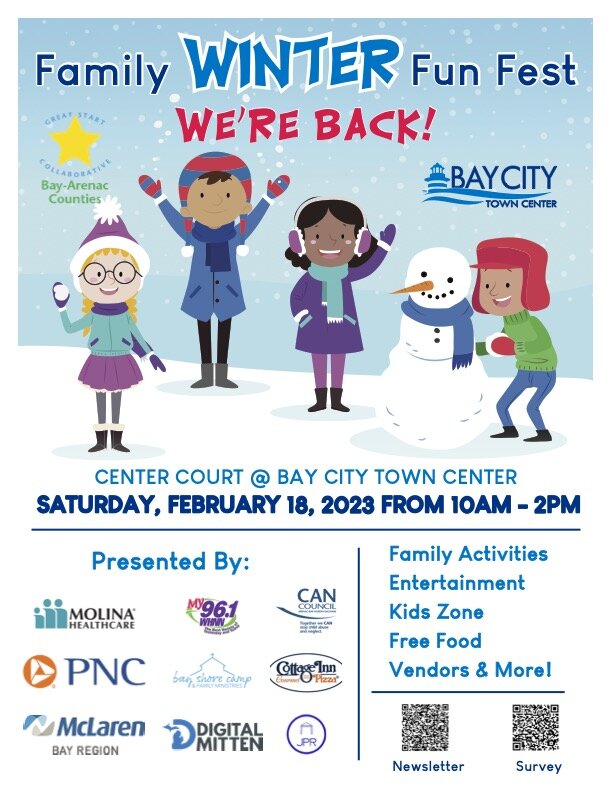 Planned entertainment throughout the event includes NooNoo and MiMi face painting.
Bay Shore Camp has a 'Kids Zone' with 9 squares in the air games, climbing wall, bounce house, GAGA ball, archery tug, inflatable joust, bungee run and obstacle course.
The Bay County Family Fun Club offers family-friendly activities. Also, the McLaren Bay area uses darkroom activities to illustrate germs to provide educational outreach and health services.
Important reasons: Bay-Arenac ISD Great Start Coordinator Rich Van Tol says the event is more than just a fun afternoon for families with young children. During the event, parents can get tips on how to keep their kids safe and information on how to connect with community resources.
Center stage schedule:
10:30-11:00 Diaper Dash at Bay Arenac Diaper Bank
11:30 am: Complimentary pizza served
Toddler Trot Race at Bay Arenac Diaper Bank from 12:00 PM to 12:30 PM
12:00 PM to 1:00 PM: Balloons
1:15-2:00 PM: Joel Tacy Magic Show