Pro-Kalistan elements have destroyed three Hindu temples in Melbourne over the past few weeks.
Photo: Twitter
Canberra: Australia's Indian High Commission condemned recent attacks on Hindu temples in the country by pro-Karistan elements in a press release on Thursday.
"The High Commission strongly condemns the highly disturbing acts of vandalism, including the vandalism of three Hindu temples in Melbourne in recent weeks. , as well as graffiti containing anti-Indian glorification, are alarming.These incidents are an obvious source of hate and division among the peaceful multifaith and multicultural Indo-Australian community. It is an attempt," said the Indian High Commission.
"Indications that pro-Kalistan elements are stepping up their activities in Australia are being actively supported and instigated by members of banned terrorist organizations such as Sikh Justice (SFJ) and other hostile agencies outside Australia. has been implemented." Statement added.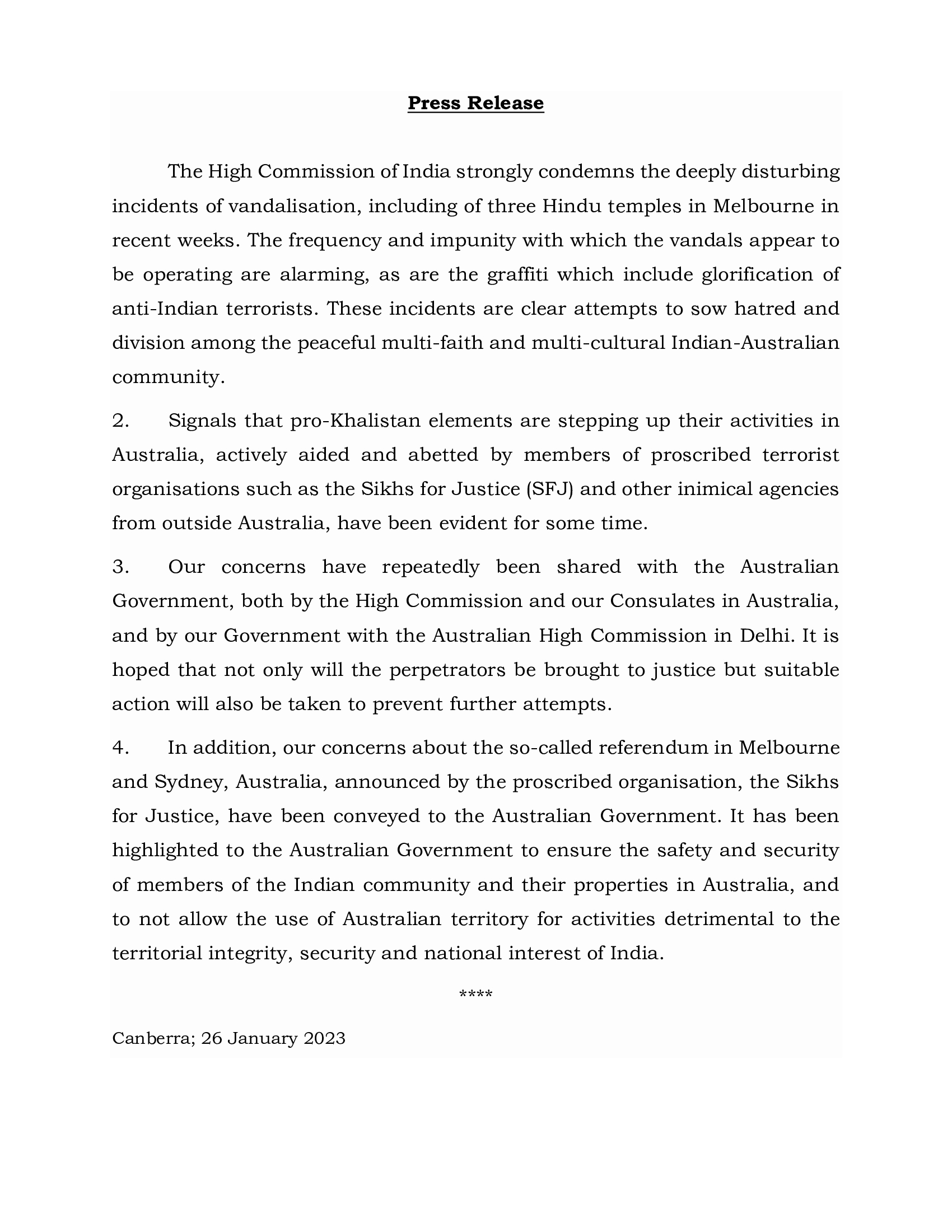 A third Hindu temple in Melbourne's Albert Park was smeared with anti-Indian graffiti on Monday, following the vandalism of the Shri Shiva Vishnu temple in Calum Downs, according to Australia Today.
Anti-India extremists destroyed the BAPS Swaminarayan Temple in Melbourne's Mill Park district on January 12 and spray-painted anti-India messages on the walls of the temple.
The three attacks on a Hindu temple by Haristani supporters in less than a month are reasons for concern, especially given that Melbourne is set to hold its so-called 2020 referendum on 29 January.
India also expressed its concern over the referendum, stating that "our concerns regarding the so-called referendums announced by the banned terrorist organization Sikhs for Justice in Melbourne and Sydney, Australia, have been expressed to the Australian Government. I was told," he said.
The vote is being run by the Sikhs For Justice, a terrorist group calling for the creation of another country called Haristan, outlawed by the Indian government in 2019 under the UAPA.