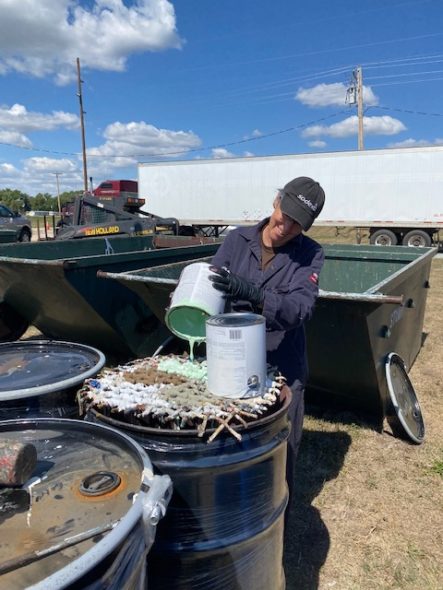 While RC&D's collection efforts were suspended during the pandemic, we are back on track and helping members in all six counties recycle. "We held three household hazardous waste and multiple paper shredding events this fall," announced President Mike Burge. "Household Hazardous Waste Collection took place in the Eastern Service Area. The Spencer, O'Neill and Stuart communities hosted these events. McCook's Red Willow HHW was the collection's vendor, and they make sure that everything that is collected is properly recycled or disposed of."
Spencer, O'Neill and Stuart's community supported this project. The villages of O'Neill and Spencer and Stuart helped organize and involve volunteers. Many volunteers from each region participated. At Spencer's event, Lynn Sobotka, Delight Becker, Sarah Joy, Tracy & Trevor Ghosh, Ernie & Carol Islers, Melanie Black, Tracy Ghosh. O'Neill's volunteers included Susan Wakefield, Randy Happ, Jeanne Crumley, Delight Becker, Amy Shane, Lynn & Woody Sobotka, Sarah Joy and Delray Kumu. At Stuart, volunteers were Rick Shearer, Bob Rockman, Sean Graves, Cody Munyon, Jeanne Shearer, Don Shearer, Lynn Sobotka and Sarah Joy. I was the one staff member for all three events.
"Household hazardous waste collection was made possible in part by an NDEE grant. The grant covered about half of the total cost. "It was donations from people who dropped items to make it happen," Barge adds. City of O'Neill, Niobrara Valley Electric, City of Atkinson, Atkinson Community Foundation, Community Wardrobe Store, and O'Neill Chamber of Commerce, and other donations to Butte, Spencer, Lynch, Bristow, Boyd County Supervisors, Lower Niobrara NRD, It was made possible by the Spencer Foundation, the Eileen Stenger Foundation, and the Spencer Community Ec Dev Villages, without their support, this collection would not have been possible."
Barge continues by saying: Thanks to everyone at RC&D Counsel for supporting this project. "
Another collection this fall is the annual paper shred along two routes, Route 12 and Route 20. "I don't know if it helped people catch up on shredding, or why the numbers went down. But we did collect 70 bins of field-destroyed documents. The need for privacy protection is growing." It was rewarding to hear so many comments thanking us for providing this outlet as it continues to grow."
Paper shredders were installed on Highway 12 in Springview, Naper, Butte, Spencer, and the first pass through Bristow on this route. US 20 stopped at Merriman, Valentine, Bassett, Stuart, Atkinson, and Inman.
Security Shredding Services provided an onsite shredder. RC&D has worked with Lathan Asbra through the Shredder event. We appreciate the rapid replacement of shredded paper with recycled paper on store shelves throughout the region.
The cost of paper shredders has increased significantly this year. Generous donations from paper-throwers have been a big help in covering this cost. The remaining funds will come from RC&D funds.
"RC&D would like to thank everyone who has supported these events either financially or as a volunteer. is reassuring," added Mike. "We look forward to supporting even more recycling events in 2023."